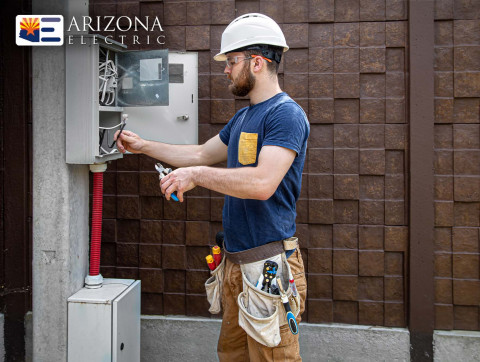 Thank you for visiting us on RemodelingTool! Arizona Electric is your trusted partner for top-notch electrical services. Our team at Arizona Electric, LLC consists of licensed, insured, and bonded professionals who are dedicated to delivering the highest level of customer service and competitive rates in the industry. With over 20 years of experience, we have established ourselves as a reputable and reliable electrical solutions provider in Arizona.
As a full-service electrical company, we offer a wide range of services to meet the diverse requirements of our clients. Whether you need Electrical installation for a new construction project or electrical repairs to fix a persistent issue, our skilled electricians are ready to handle any challenge. We take pride in delivering prompt and efficient services, ensuring safety and compliance with industry standards.
At Arizona Electric, we understand the unique electrical needs of homeowners. Our Residential Electrician service is tailored to enhance the electrical systems in homes, making them more energy-efficient and safer. From small repairs to comprehensive installations, our team is dedicated to delivering high-quality solutions that suit your specific requirements.
For businesses seeking dependable electrical services, our Commercial Electrician service offers a complete range of solutions. Our experienced electricians handle everything from large-scale installations for commercial spaces to routine maintenance, ensuring that your business operates smoothly and safely.
If you require an Electric Panel Upgrade, look no further. Our experts will modernize your electrical panel, increasing its capacity and enhancing safety. Whether you need to accommodate increased power demands or want a more efficient system, our upgrade services are tailored to suit your needs.
At Arizona Electric, our dedication to customer satisfaction, attention to detail, and commitment to quality workmanship make us the go-to electrical service provider in Phoenix. Our goal is to exceed your expectations, providing efficient and cost-effective solutions for all your electrical needs. Feel free to drop us a line if you need emergency service, a quote, or have any questions or specific requests. We're excited about serving you! Reach us by phone or by filling out our web form.
Arizona Electric
3820 W. Happy Valley Rd 141-449
Glendale, AZ 85310
Phone:
Email:
Website: https://arizonaelectricllc.com/
Read Our Blog: https://arizonaelectricllc.com/blog/
Follow Us on Twitter: https://twitter.com/AZElectricLLC
Like Us on Facebook: https://www.facebook.com/arizonaelectric
Follow Us on TikTok: https:
Follow Us on Yelp: https://www.yelp.com/biz/arizona-electric-phoenix-2
Subscribe on YouTube: https:
Connect With Us on LinkedIn: https://www.linkedin.com/company/arizona-electric-llc
Follow Us on Instagram: https://www.instagram.com/arizonaelectricllc
Follow Us on Pinterest: https://www.pinterest.com/azelectricllc